Furnace Installation & Replacement
Affordable Furnace Repair Solutions in Blue Ash, OH
Are you having problems with your home heating equipment? Did your furnace malfunction, quit working, or is it beginning to show signs of old age? Does it seem like there could be bigger problems on the horizon? Furnace breakdowns are among the worst of problems to have to deal with during an Ohio winter, and they can become a nightmare if there are children in the home, or elderly residents, or people with serious health conditions.
Whether you are waking up to a surprisingly cold home, your unit isn't responding to adjustments to the thermostat, or you are getting home after a long day of being away and discovering your furnace has been out — when a homeowner loses heat during the winter it's a stressful situation to have to deal with.
In situations like these, if there's one comfort a homeowner can take, it's that we have a team here at Blue Ash Furnace & Air Conditioning always standing by. We are always available to help, night and day, including weekends and holidays. Just give us a call or schedule online now!
Furnace Repair in Blue Ash, OH
Schedule a Service Call
Not sure what your heating system needs to get back in working order to keep your home warm? Schedule a Service Call today! We can also help you determine if your furnace needs replacement. Trust the experts at Blue Ash Furnace & Air Conditioning!

10% off Service Call
Book Now
Blue Ash Furnace & Air Conditioning
Top 4 Furnace Warning Signs
When winter temperatures start to drop and the hours of daylight begin to dwindle, Southwest Ohio area homeowners need to give their home heating equipment a little extra attention and care before the truly freezing cold weather arrives and home heating season is in full force. If it's not running as well as it used to, we put together the following list of our Top 4 Furnace Warning Signs:

No Response to Thermostat
If your furnace isn't kicking on and your home is feeling frigid, it could result from a thermostat problem. If this happens, the first thing you should do is test the batteries in the thermostat. If it doesn't use batteries, it could be the wiring. And if it's not the wiring, it might be another problem somewhere, like your pilot light.

Yellow flame pilot light
The pilot light should be blue. If the flame in your pilot light is yellow, it is a sign of trouble and should be taken seriously. Yellow flames are a result of a mixture of gases and this means the furnace isn't working right. Gas is serious stuff. The proper color of a pilot light should always be blue, indicating an ideal balance of gases. It should be blue and should never flicker. The yellow pilot light, however, often indicates carbon monoxide. Call us immediately if your pilot light is yellow. Safety must come first!

Unusual Sounds or Noises
It's entirely normal to hear a faint hum coming from your furnace's motor, even immediately after it was installed, while it's still brand new. The difference between normal healthy sounds and the more unhealthy noises should be fairly obvious to you, a matter of common sense, especially if you remember the sound when it was new. As such, if you're hearing screeching metal, grinding, squealing, whistling, pounding, or slamming — give us a call so we can help and check it out before it breaks down or evolves into a more serious problem that'll cost you more.

Rising heating costs
When your heating bills are on the rise, it's likely from some type of inefficiency in the system. There are several things that could cause a furnace's performance to drag or decline. Because of this, it's best to play it safe and give us a call so we can identify the problem and look at ways to affordably resolve it. These are the types of things we can often resolve with a simple maintenance visit or seasonal furnace tune-up.
Need Emergency Services?
We make ourselves readily available after regular business hours, on holidays, and on weekends when other HVAC contractors are closed for business. We're here for you 24/7, 365!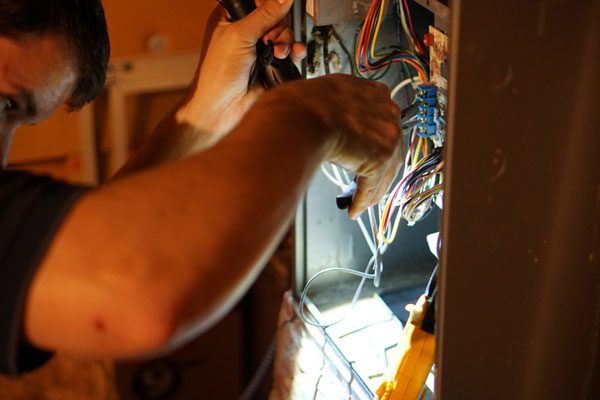 Furnace Repair in Blue Ash, OH
We Can Repair Your Furnace!
At Blue Ash Furnace & Air Conditioning, our NATE-certified technicians have extensive experience servicing, repairing, and installing all varieties of furnaces and other home heating equipment, no matter what the age, style, make, and model. This also goes for any equipment used in connection with any HVAC equipment. We service and install all-electric furnaces and heaters, gas furnaces, heat pumps, air handlers, gas heating equipment, zoned systems, ductless mini-split systems, and more.
Our service techs always show up to each and every call for service in a fully-stocked state-of-the-art service van fully equipped with all the latest HVAC equipment, tools, diagnostic equipment, parts, and technology. Whenever they perform work on an HVAC system, we probe for parts that might be faulty or failing, and we go to great lengths to identify issues that are liable to develop into a concern or costly problem later on.
If we find an issue, we'll discuss it with you and explore various options and associated costs to resolve it. Depending on what you decide to do from there, we resolve that issue the same day, on the spot, leaving you with peace of mind knowing you can count on your system this winter. In any case, we always arrive prepared to repair anything that might be problematic and replace anything that might be defective. As such, we replace fuses, breakers, pilot lights, burners, ignitors, valves, switches, heat exchangers, heat strips, blower motors, fans, air filters, control boards, and much more.
Anytime it comes to work on a furnace or home heating equipment (or any kind of HVAC system), it doesn't matter what kind of problem or situation you're dealing with — we are always more than happy to help!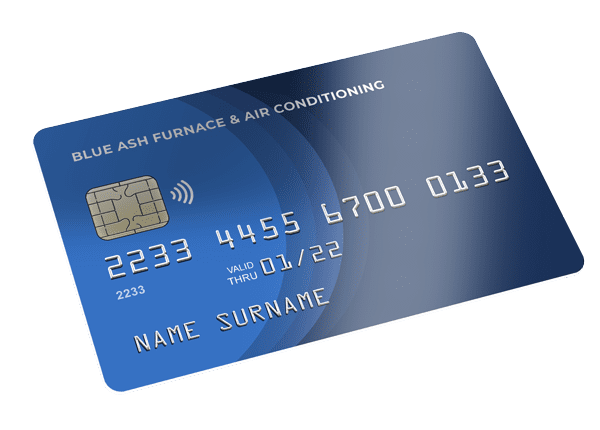 Get It Today with HVAC Financing
If you're looking for financial assistance in upgrading your home's HVAC system or covering the cost of repairs, we encourage you to consider our financing options! Blue Ash Furnace & Air Conditioning has joined forces with Wells Fargo Bank to make a credit card available to help our customers. We also offer special online deals on our HVAC services in Blue Ash, OH.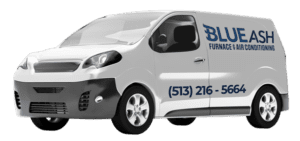 Affordable. Accurate. Advanced
Choose Blue Ash Furnace & Air Conditioning
We offer the highest quality services and cutting-edge products at the most competitive price rates in the local market, with convenient financing options and online deals with customer satisfaction guaranteed, we hope you realize that we want what's best for your home, as our valued customer. We've always held firmly to the belief that good business must be a win-win for all.
Experienced Technicians
The men and women who wear our badge are NATE-Certified with years of hands-on experience.
Friendly Customer Support