Furnace Installation & Replacement
Affordable Furnace Installation & Replacement Solutions in Blue Ash, OH
Purchasing and installing a new heat source for your home is a major decision and a major investment that will affect the value of your home in addition to your budget for years to come. Because of this, it's a decision that should come after a decent amount of research. Understanding the importance of the decision to replace a furnace, we at Blue Ash Furnace & Air Conditioning treat our customers the way we would want to be treated if we were in their shoes.
With that being said, we make the installation process simple for our customers. We take the stress away by offering convenient financing options and online deals, as well as finishing most installations in one service day. We guarantee 100% customer satisfaction on our installations! Our technicians are respectful men and women who will treat your home and family with kindness and care.
Blue Ash Furnace & Air Conditioning
Knowing When To Repair vs. Replace a Furnace
Whether you're waking up one morning to a cold home or coming home from a long day at work and finding your heat has been out, eventually, every homeowner will find themselves debating whether to repair or replace their heating unit.  Rest assured in times like these, that we have a set of guiding principles in helping make this decision:

How Safe is the Unit?
Because home heating equipment is a leading cause of residential fires, "safety comes first" is more than a mere saying in our business. Whenever a furnace poses any type of health or safety risk and the repair is too expensive or in any way impermanent, replacement is the best way to go, looking down the road. A good example would be if your heat exchanger gets cracked. Cracked heat exchangers are expensive and can cause carbon monoxide to leak, which could be fatal, as well as pose a fire hazard. With something dangerous like CO2, the decision is obvious. However, if the safety risk is something like a stuck valve or bad wiring, it might merely need to be repaired. Because these things are best looked at on an individual case by case scenario, calling one of our local NATE-certified furnace technicians to come out and inspect the problem closely will go a long way because our experts can provide a cost-benefit analysis and explore various options you have to help you make the best decision for your specific situation.

How Old is the Unit?
The average lifespan of a furnace fluctuates between 15 and 20 years. Then compare your furnace's age to how well it's performing. If you aren't sure how old your system is, most furnace installers will write the date of installation on the unit's face when they install it. If you don't see it anywhere, you can also get the serial number and model information on the metal identification plate inside the door and call the manufacturer to see how old the unit is. In any case, if your heating equipment is more than 20 years old, that doesn't necessarily mean it needs to be replaced. When it comes to HVAC systems, lifespan projections are ballpark figures. Some furnaces are useful a lot longer than others, and factors like the regularity of maintenance increase their lifespan.

How Efficient is the Unit?
When a furnace isn't performing very efficiently, it's unable to heat a home as effectively as it is designed to, which means the homeowner ends up paying more in heating costs that continue to climb over time. As such, another major indicator of when a system becomes inefficient is when there are parts of the residence that tend to be hotter or colder than others. These uneven heating issues are more common in older systems that are outdated because they have to work harder to heat the whole home.
Need Emergency Services?
We make ourselves readily available after regular business hours, on holidays, and on weekends when other HVAC contractors are closed for business. We're here for you 24/7, 365!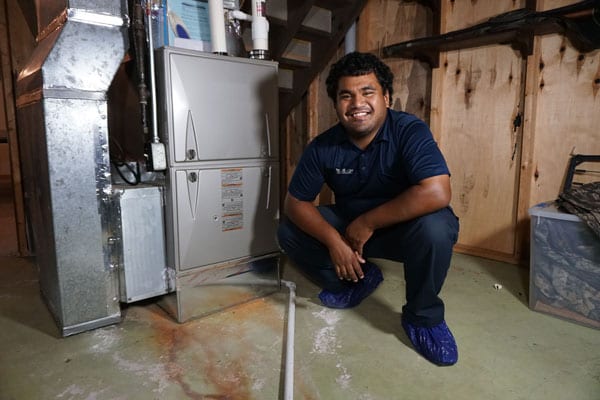 Furnace Repair in Blue Ash, OH
Our Installations are Hassle-Free!
At Blue Ash Furnace & Air Conditioning, we stay up-to-speed with the latest heating system trends and technology, offering all the latest and greatest products and services at prices you won't find anywhere else. We service, sell and install all types of heating equipment including top-of-the-line systems that are multi-speed, variable speed, and single-stage. We sell and install the industry's leading gas and electric furnaces, ductless mini-split systems, heat pumps, and air handlers — all of which we are able to offer at a price our competitors can't beat. To determine what's best for your home and your specific needs, we start the process by looking at the square footage area needing heat in your home and combine that with the number of rooms and other factors to analyze the information and come up with recommendations concerning your new replacement equipment.
We start the process by removing your old heating equipment and properly disposing of it. When that's done, our techs carefully and precisely install the brand new equipment. Depending on what all you are getting with the new system, the next step is to put in all those additional parts — by this we mean any add-ons you're getting like a humidifier, or smart thermostat or Indoor Air Quality device, all of which come cheaper when installing a new system.
After this is complete and everything looks good, we carefully connect your air duct system, recalibrate the new system's controls, and perform tests on the new equipment to ensure everything is completely 100% operational and effective, in prime working condition like it should be. From there, after we establish everything is precise and pristine and nothing is defective, we show you everything we did, walking you through the job while demonstrating how the system works. We answer any questions and always make sure you're satisfied with every single detail and you understand how to operate everything.
At the end of the day, with satisfaction guaranteed, we want you to be so content with your new unit that you tell your family and friends about us, should they ever need any help related to an HVAC system.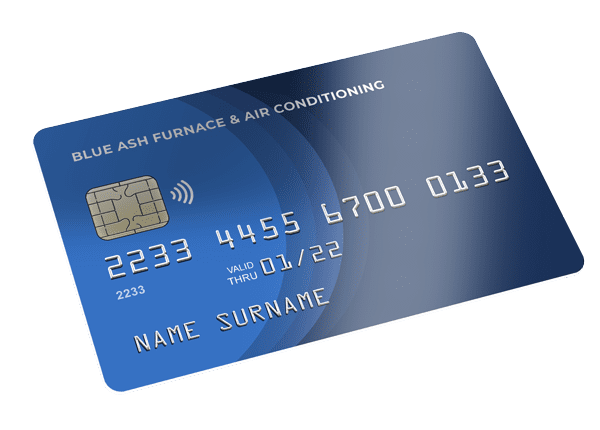 Get It Today with HVAC Financing
If you're looking for financial assistance in upgrading your home's HVAC system or covering the cost of repairs, we encourage you to consider our financing options! Blue Ash Furnace & Air Conditioning has joined forces with Wells Fargo Bank to make a credit card available to help our customers. We also offer special online deals on our HVAC services in Blue Ash, OH.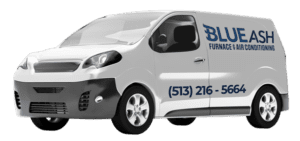 Affordable. Accurate. Advanced
Choose Blue Ash Furnace & Air Conditioning
We offer the highest quality services and cutting-edge products at the most competitive price rates in the local market, with convenient financing options and online deals with customer satisfaction guaranteed, we hope you realize that we want what's best for your home, as our valued customer. We've always held firmly to the belief that good business must be a win-win for all.
Experienced Technicians
The men and women who wear our badge are NATE-Certified with years of hands-on experience.
Friendly Customer Support