Heat pump Installation & Replacement
Affordable Heat Pump Repair Solutions in Blue Ash, OH
Residential HVAC systems usually have two units for climate control. For the hot months of summer, homeowners have an air conditioning system. And, for the colder months of the year, they have a furnace of some kind. If you have a heat pump in Blue Ash, OH and you need a reputable heat pump repair technician that's competitively priced, give our support staff here at Blue Ash Furnace & Air Conditioning a call today!
We have an outstanding team of NATE-certified HVAC technicians who are local and who repair heat pumps throughout the Greater Hamilton County area. Moreover, if you have a heat pump and you are experiencing problems, it's important that you give us a call at the first sign of trouble before things get worse before it evolves into an emergency repair.
Heat Pump Repair in Blue Ash, OH
Schedule a Service Call
Not sure what your dual heating and cooling system needs to get back in working order to keep your home comfortable and cozy? Schedule a Service Call today! We can also help you determine if your system needs replacement. Trust the experts at Blue Ash Furnace & Air Conditioning!

10% off Service Call
Book Now
Blue Ash Furnace & Air Conditioning
Top 4 Heat Pump Problems
If your heat pump is starting to act up, you're probably wondering if the issue warrants repair. We've put together a list of the Top 4 Heat Pump Problems:

Ice formation on unit
Heat pumps use an outdoor coil to release heat during the winter. During the summertime, this same coil absorbs the heat. Because of this, it's not uncommon for a layer of frost to form on the outdoor unit's casing during the winter when it's working hard. If it starts forming frost like this, you should remove the frost because if too much of it builds up and a layer of ice develops, it can lead to other problems. Because heat pumps are supposed to be defrosting themselves on their own by running defrost cycles, we advise calling us if this begins to happen. Frost adds a lot of excess stress on heat pumps and can cause the system to break down if left unresolved.

Defective Reversing Valve
In order to switch modes from heat to cold and back, heat pumps come with an all-too-important "reversing valve" that permits the system to reverse the flow of its refrigerants when the seasons change. This valve is important because it enables the homeowner to switch from "cooling mode" during the summer to "heating mode" during the wintertime. Unfortunately, this "reversing valve" malfunctions occasionally and it's not unheard of for it to become stuck in a single position, which prevents the user from alternating back and forth among these two modes of operation. If this happens, make sure to give us a call to replace this faulty valve in a safe and professional manner.

Refrigerant Leak
Similar to how an air conditioner works, heat pumps use refrigerants to move heat from one place to another. Because these refrigerants are used in both the summer and during the wintertime, if any kind of refrigerant leakage develops, additional problems will follow. Heat pump refrigerant leakage makes the system unable to do its job. Without it, it can't absorb and transfer the heat it needs to transfer to provide warm and cool air. In little time, this can damage the compressor, which is an expensive part, while decreasing comfort levels. Our highly skilled local heat pump repair technicians can seal leaks in refrigerant lines and recharge them in order to restore services and avert further problems from snowballing. Don't wait to call us if you suspect your heat pump's heating or cooling performance has diminished, or especially if you hear any strange sounds coming from it.

Electrical Problems
Because heat pumps utilize electricity to power their fan motors and compressors, electrical issues are a common cause of heat pump problems. Defective or malfunctioning electrical components, or bad wiring, should be replaced by a certified professional who insured, like we are, for obvious safety reasons.
Need Emergency Services?
We make ourselves readily available after regular business hours, on holidays, and on weekends when other HVAC contractors are closed for business. We're here for you 24/7, 365!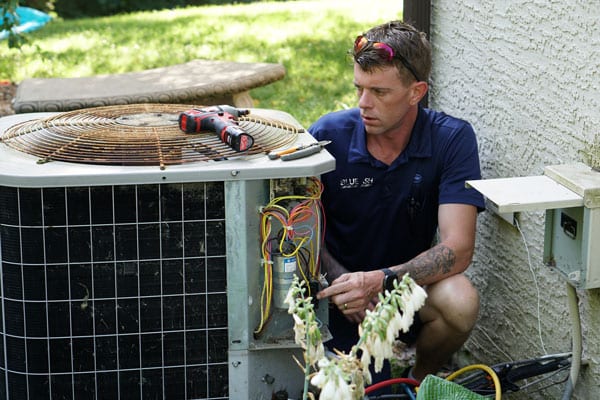 Heat Pump Repair in Blue Ash, OH
We Can Repair Your Furnace!
At Blue Ash Furnace & Air Conditioning, our NATE-certified technicians have extensive experience servicing, repairing, and installing all varieties of heat pumps and other home HVAC equipment, no matter what the age, style, make, and model. This also goes for any equipment used in connection with any HVAC equipment. 
Our service techs always show up to each and every call for service in a fully-stocked state-of-the-art service van fully equipped with all the latest HVAC equipment, tools, diagnostic equipment, parts, and technology. Whenever they perform work on an HVAC system, we probe for parts that might be faulty or failing, and we go to great lengths to identify issues that are liable to develop into a concern or costly problem later on.
If we find an issue, we'll discuss it with you and explore various options and associated costs to resolve it. Depending on what you decide to do from there, we resolve that issue the same day, on the spot, leaving you with peace of mind knowing you can count on your system this winter. In any case, we always arrive prepared to repair anything that might be problematic and replace anything that might be defective. As such, we replace fuses, breakers, pilot lights, burners, ignitors, valves, switches, heat exchangers, heat strips, blower motors, fans, air filters, control boards, and much more.
Anytime it comes to work on a heat pump or any kind of HVAC system, it doesn't matter what kind of problem or situation you're dealing with — we are always more than happy to help!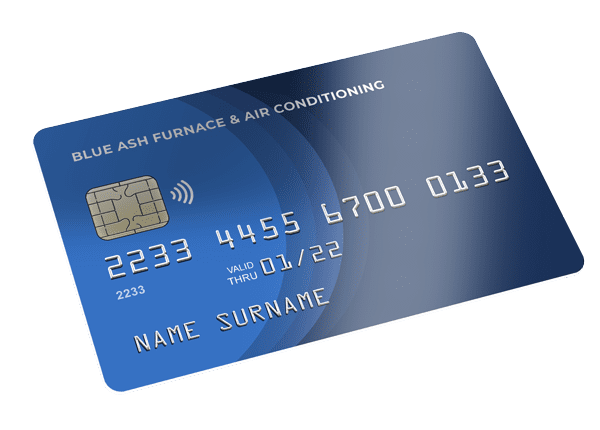 Get It Today with HVAC Financing
If you're looking for financial assistance in upgrading your home's HVAC system or covering the cost of repairs, we encourage you to consider our financing options! Blue Ash Furnace & Air Conditioning has joined forces with Wells Fargo Bank to make a credit card available to help our customers. We also offer special online deals on our HVAC services in Blue Ash, OH.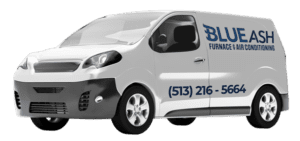 Affordable. Accurate. Advanced
Choose Blue Ash Furnace & Air Conditioning
We offer the highest quality services and cutting-edge products at the most competitive price rates in the local market, with convenient financing options and online deals with customer satisfaction guaranteed, we hope you realize that we want what's best for your home, as our valued customer. We've always held firmly to the belief that good business must be a win-win for all.
Experienced Technicians
The men and women who wear our badge are NATE-Certified with years of hands-on experience.
Friendly Customer Support